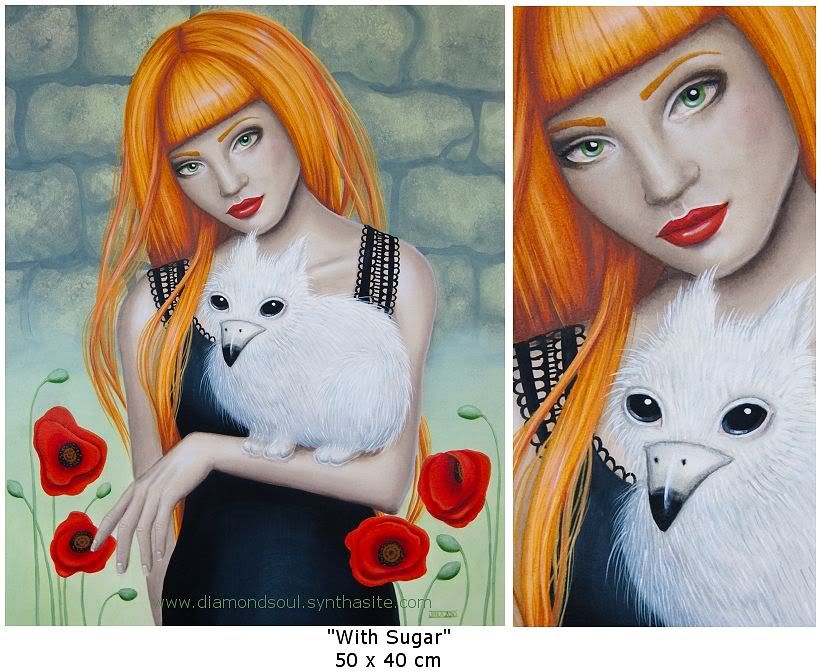 May I introduce you to my awesome pet named "Sugar" that came to me in a dream:
She's a mix between a rabbit, a bird and a bit of cat/dog. In my dream I was in a garden
of poppy flowers surrounded by a stone wall and she came to me, at first she had wings
and was more bird-like but throughout the dream changed more into what she looks like
in the painting. She was real curious and friendly and I went for a walk with her and then
I saw my mum and stopped to chat to her and Sugar ran off but I found her again later.
She was singing the lyrics to "It's choade my dear" by Connan Mockasin.
I made a progress video for this painting so now you can
watch
the whole process of painting "With Sugar" in less than 3 minutes!
Please excuse the picture quality...it was filmed through the built in laptop camera.
I didn't film the mixing of paints and only a little bit of the initial drawing because you
can barely see anything. I also cut out scenes where I paint on some detail for ages
and the webcam doesn't really pick up any progress.
But all in all it should give you some idea of how it was done.