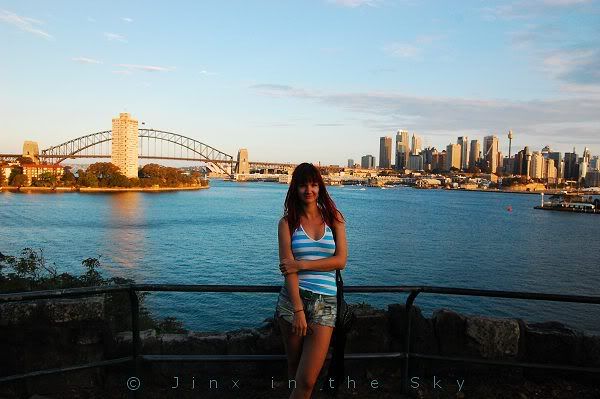 (For part 1
"Jervis Bay" go here
.)
We arrived in the city at sunset! It was beautiful to see everything drenched in golden light!
MORE: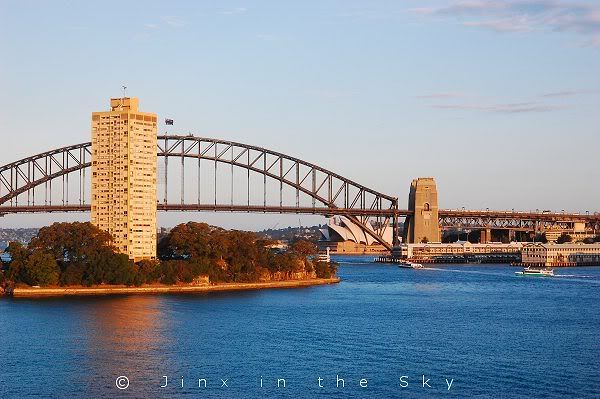 Can you see the Opera House? :D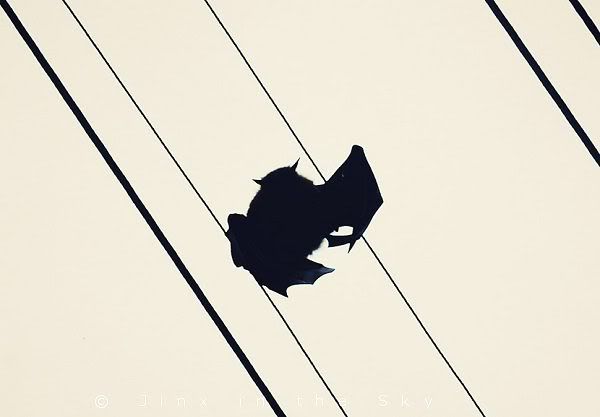 The first animal we saw in Sydney was actually this dead bat hanging in the
power lines.. :((( We were trying to figure out how it would've died, because
bats have ultrasound so they wouldn't just crash into things. Our friend's theory
was that is was old and died in flight and then fell down into the power lines?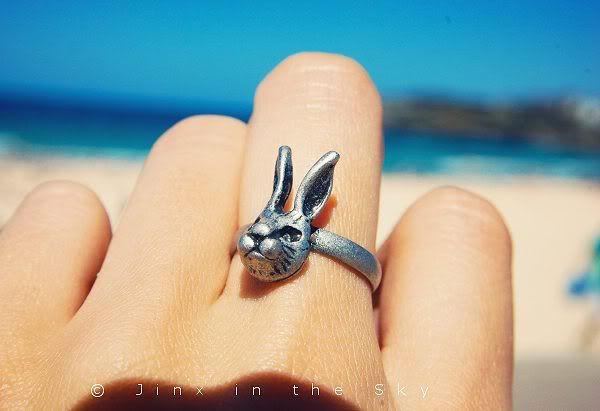 We met up with friends who joined us from Wellington and I was given this cute rabbit ring ♥♥♥!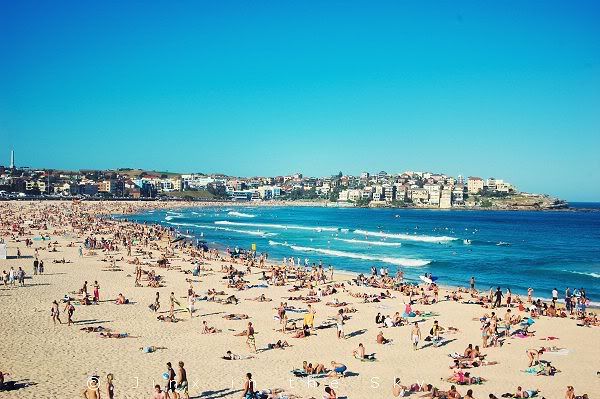 We spent a day at Bondi Beach, which was most crowded but awesome fun to
watch the poser surferboys with their incredible bodies. We were lying next to
one and even when he was standing up just talking to his friends he was striking
Mr. universe poses (I should've snuck a photo) and then he grabbed his surfboard
and baywatch-gallopped off to the water. :D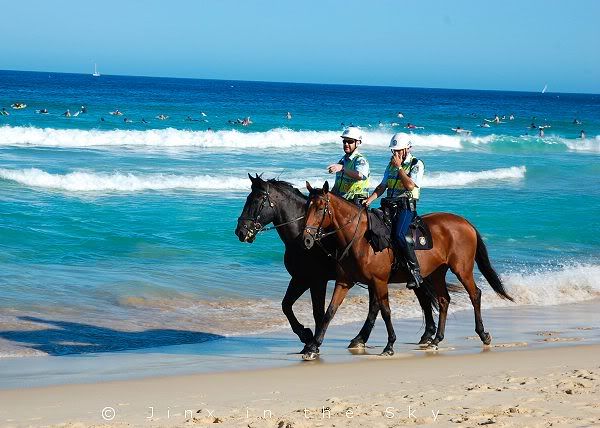 Police on horseback! It's obviously the first time I've seen this :)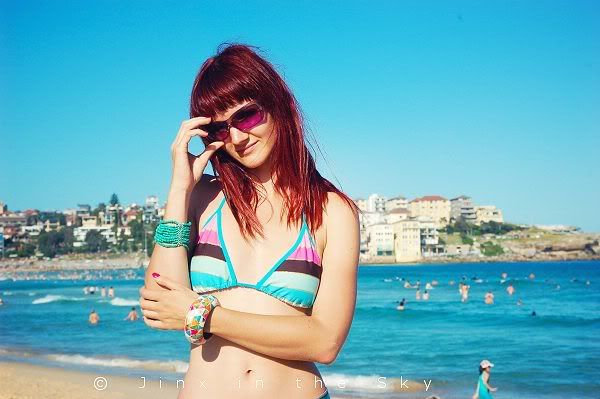 Posing at Bondi. My amateur pose is destined to show off my cool
bracelets which I got at the vintage Bondi markets for $1 each :DD
Another pretty sunset!
After sundown we went into town to the
Absinthe Salon
.
I was dressed inappropriately cololourful (last posts paisley
dress) for absinth madness so the photo is black and white :P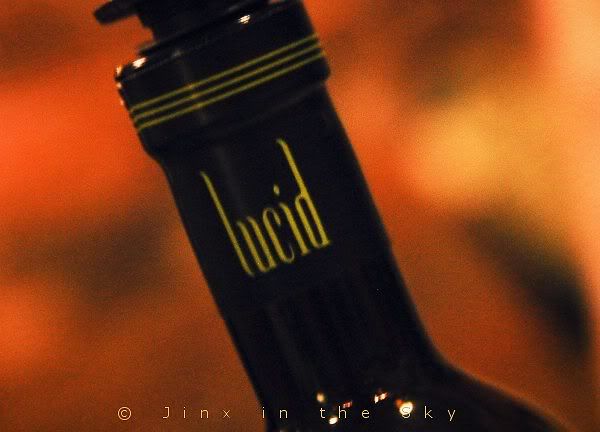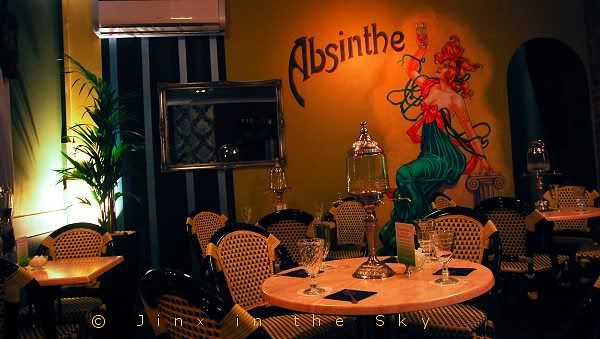 We went on Sunday (ahem) so the place was quiet, which was good because
we got to talk to the awesome waiter and learn lots about absinthe. We were
8 people and each ordered a different flavour so we could taste each others.
There was everything from minty/herbal over licorice to coffee!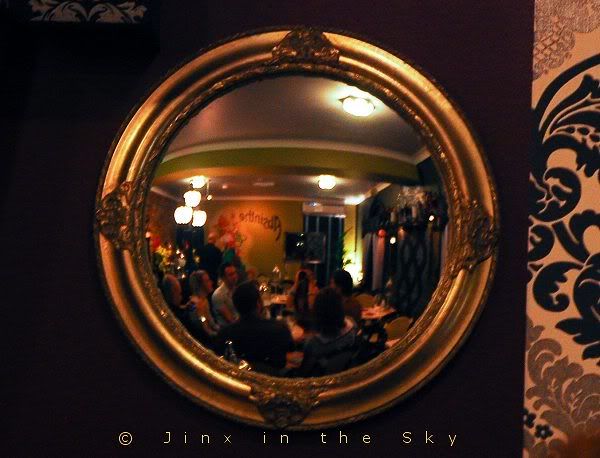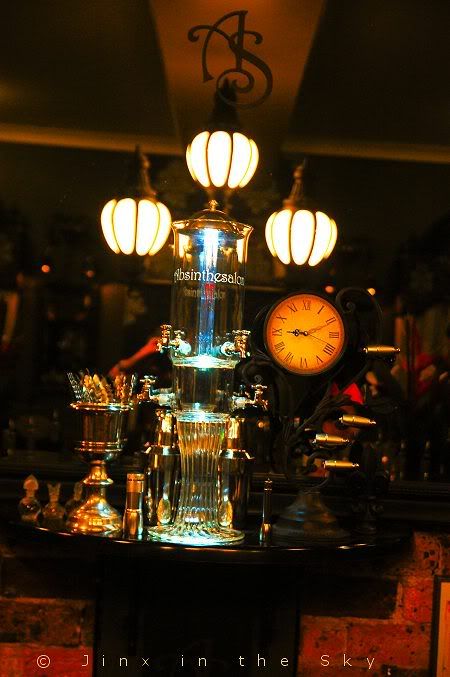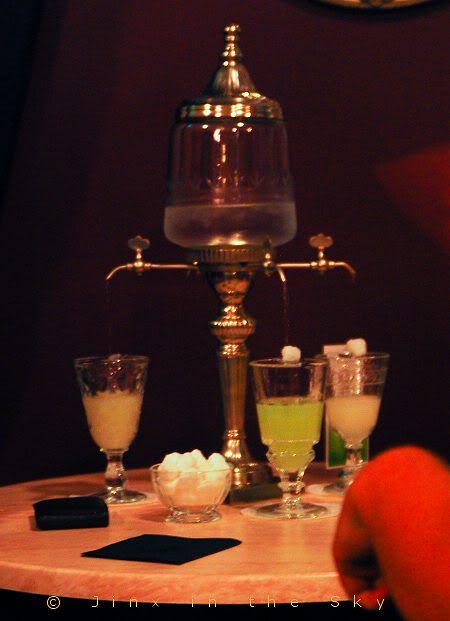 I love how they all turn into different pastel colours once you let the water drip through.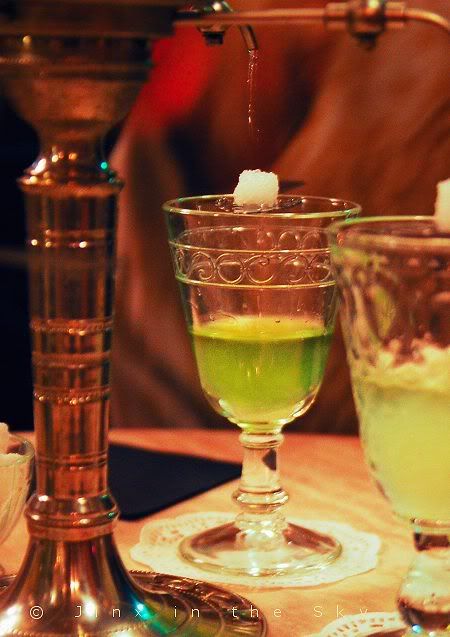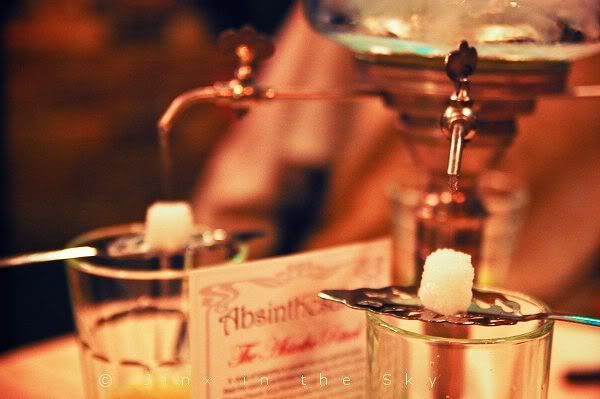 They used an awesome old cash register!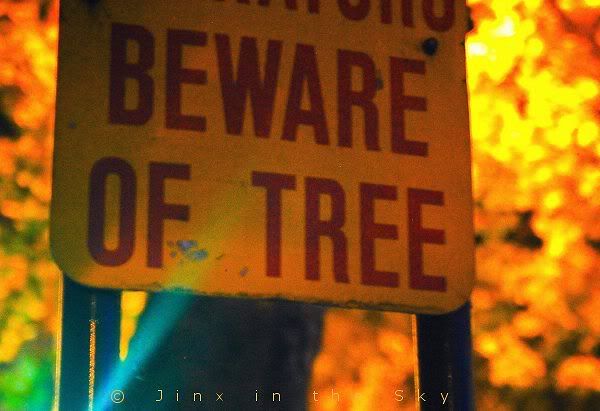 After that we stumbled through Surrey Hills with the green
fairy in our blood and I thought this sign was hilarious :D
I wanna live in this overgrown terrace house! ♥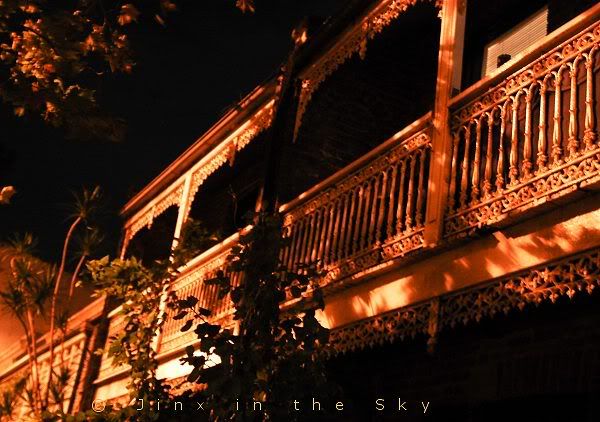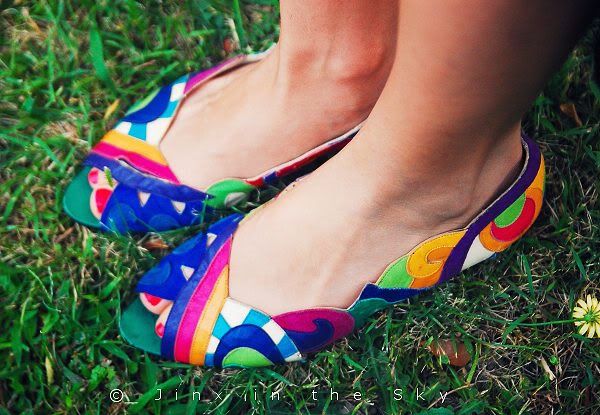 The next day I put on my artsy shoes I bought (from the Bondi Vintage market, of course!)...
...and matching bangles and we went off to see the Opera House.
We got shouted yummy food at Opera Bar!
It was tricky to take photos, because on that day the
sky was cloudy and the same colour as the opera house.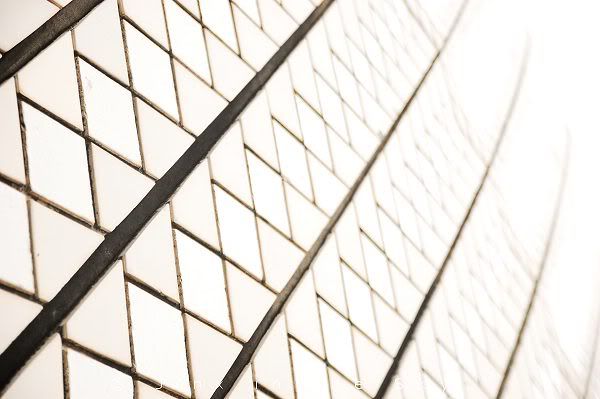 We then took the ferry that goes underneath the harbour bridge to Luna Park.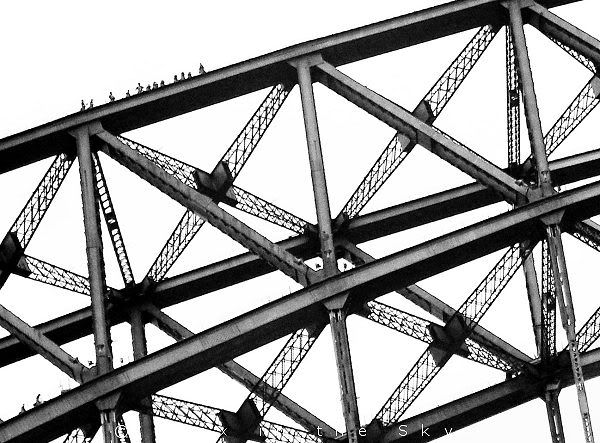 Can you see the people climbing over the very top? :D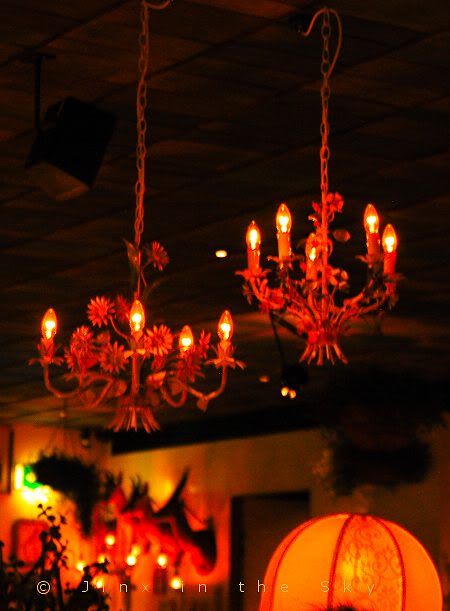 We had dinner at the lovely
Winery
which had some crazy decor!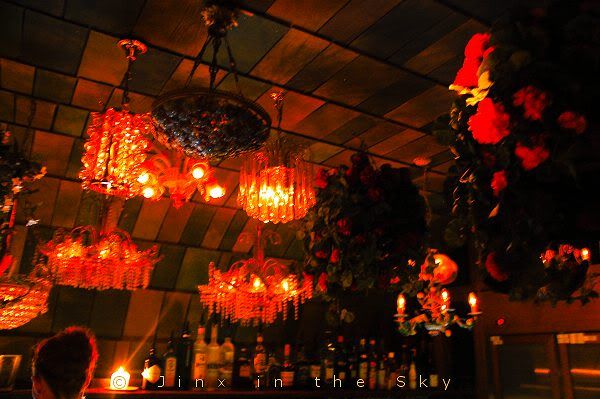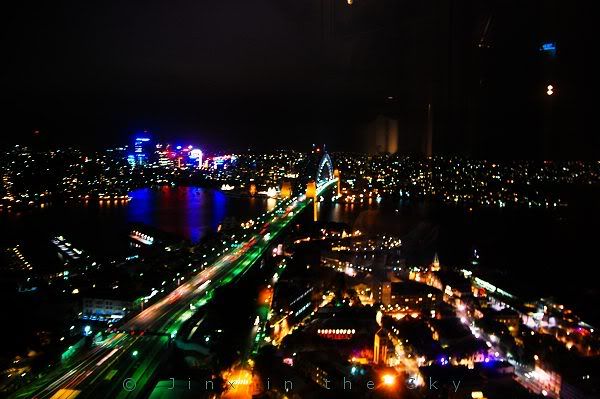 Another night we went up to the
Shangri-La Blu Bar
on the 36th floor where the views were amazing!
On our last day we walked around Berry Island in the hopes of feeding
Koooookaburras, but there was only one hiding shyly somewhere. But cool trees!
And this! Wtf is it? Looks like a nest of some sorts??! They were all over the place!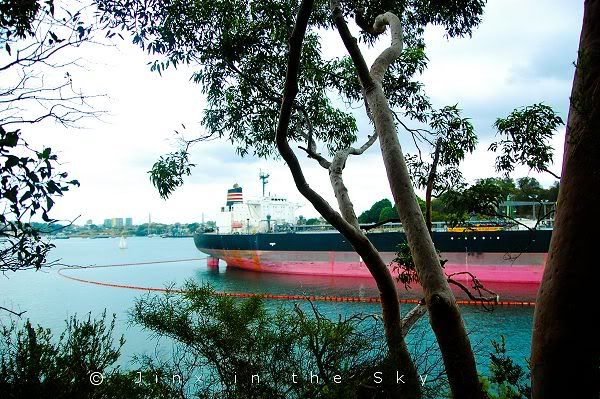 I saw a big ship anchored next to us (it was way longer
than that, I could only fit half of it on my camera).
I have a phobia of big ships. I feel when I turn my back on
it it will jump on me. So I watched it and took photos instead.
My biggest fear is swimming out there in the bottomless ocean RIGHT
UP next to one of those big freighters. I'd faint and drown.I feel similar
about buoys with their slimy anchor chains that go way down, aaah!
Our friends and us went for a walk around Manly Beach where we
encountered this cute water dragon on the side of the path :DD
And pelikans! They're huge birds. I wanna ride one!
Sydney is beautiful! Would love to live there one day! :D