My boyfriend and I decided to escape New Zealand winter for a week so we headed to tropical Vanuatu!
Hideaway Island was one of the first places we stopped by. You can walk over in low tide if you want.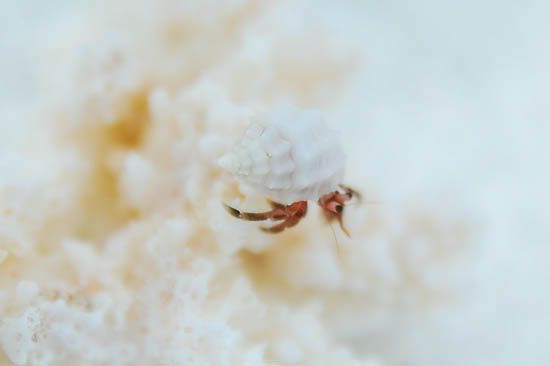 I lovelovelove hermit crabs!
Hideaway Island has the world's only underwater post office. You buy a waterproof card, scribble your message on the back...
...and head out into the water (like 20 m off the shore) then you dive down 2 m and pop it into the letterbox. I don't have a waterproof camera so no pics but there's some on their site:
Click
.
If I had an underwatercamera I would've captured the many pretty fish I saw! The rainbow coloured
parrotfish
has a sort of invisible "beak" that is uses to munch the algae from the coral and you can HEAR it!! It always made me laugh and then water leaked into my mask :P
I also saw a huge deep-blue starfish like
this one
!
More hermit crabs :))
I kinda held a "crab-with-prettiest-shell" competition but I'll spare you the gazillion photos and just present you with the winner pictured above and in the right picture below (all hidey-hidey in its pretty shell).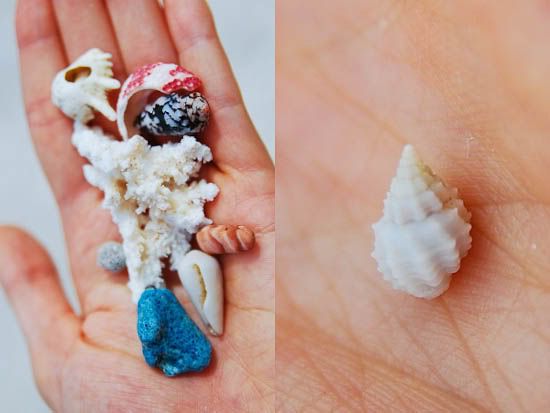 Found many other sea treasures, including a blue coral! But of course I couldn't take them back to NZ. There's strict biosecurity regulations. Still some people try smuggling geckos and spiders into the country via their underpants etc. They showed that on Border Control a while ago I think. Funnily enough as we got back there was a notice in the security area that filming for Border Control was happening at the moment. :P
The whole beach was coral!
Don't know if there should be cats on tropical islands? This one was nearing collapse in it's furry coat...
We hung around Port Vila and visited the local market. Most souvenir stuff was made in China so I bought nothing but the frooooots were definitely local and yummy.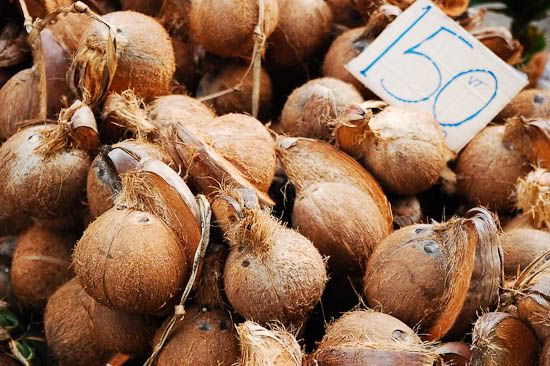 These nuts on a stick were amazing!! I bought some everytime we walked past. They taste a little bit like almonds but a lot more juicy.
Lolling around with a bottle of the local beer.
I've never appreciated proper sidewalks before walking on this crazy terrain along the street every day for a week. You have to constantly keep your eyes on the ground or you'll trip over massive rocks, glass bottles or other rubbish or cut yourself on shards. There also wasn't a single traffic light in Port Vila. Makes crossing the road hard as all the taxis (and buses - small vans that run like shared taxis with no timetable or fixed route) stop one after the other and offer you a ride. You shake your head at one - the next one stops and asks again because you might've changed your mind...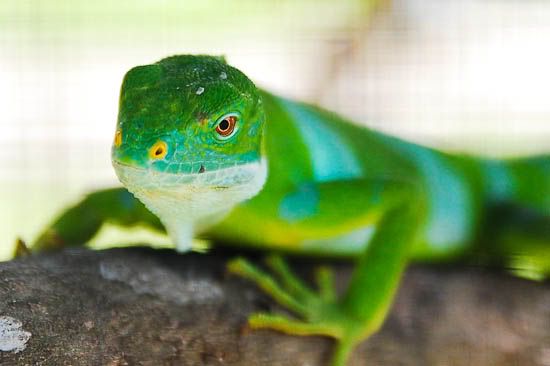 Gina, this photo is for you obviously :)
Another little island just off the shore is Iririki which has a resort on it.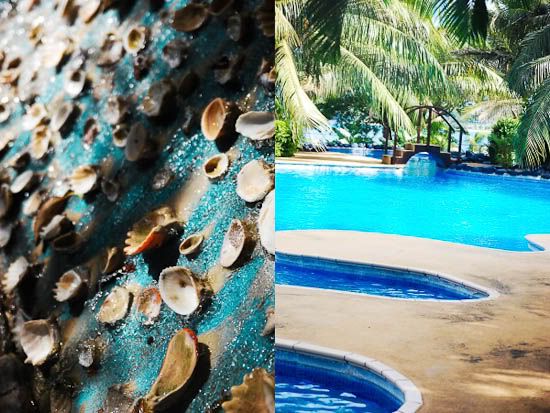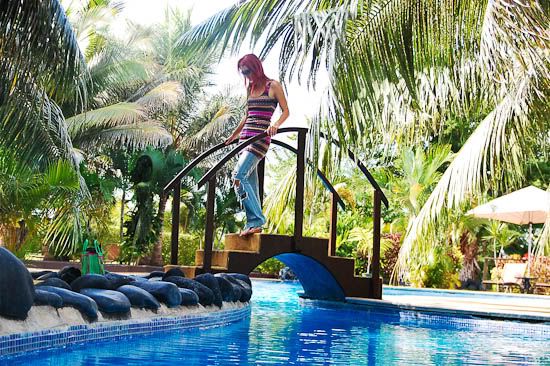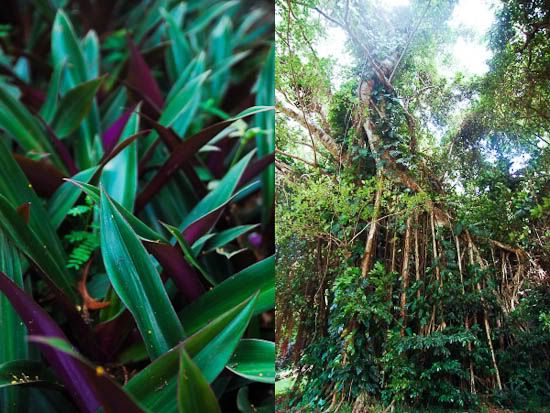 Guess what I found...?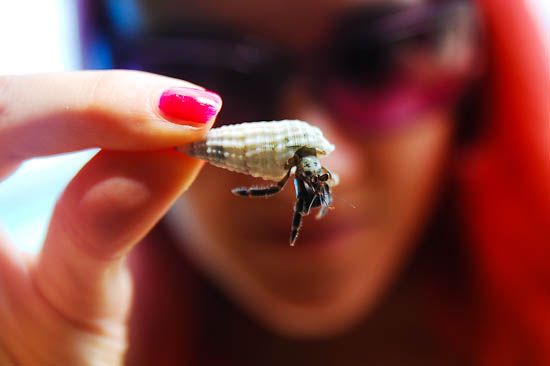 :))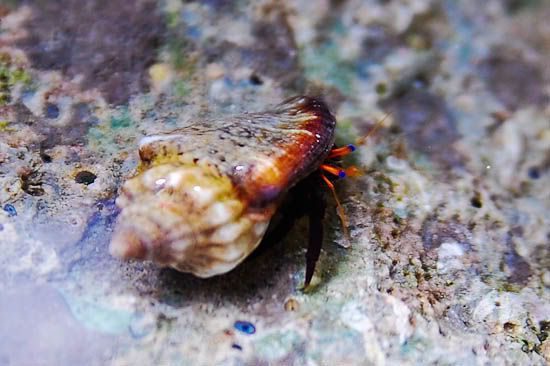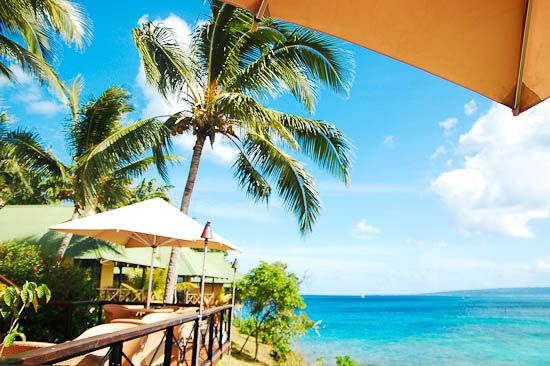 Nice view for lunch!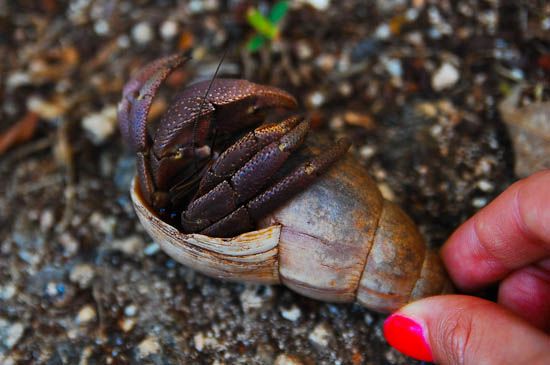 Big one!!! (Still nothing compared to
coconut crabs
omg)
These birds are everywhere. I fed them a bit because I missed
Mr. Sir
. I had 2 dreams of him whilst in Vanuatu. In one of them he was starving and in the other we were moving away and I had to leave him behind. I woke up exclaiming "Mr. Sir!" :P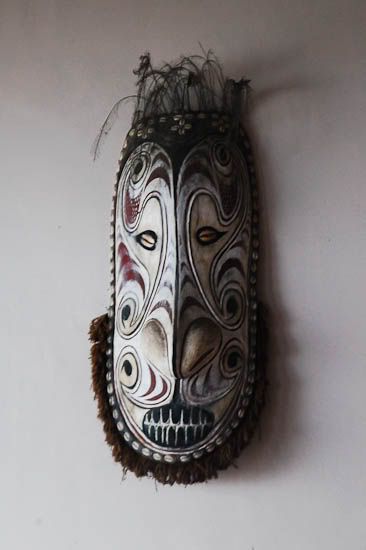 This mask reminded me of the one in
"Spirited away"
.
We took a glass bottom boat ride :)
My camera picked everything up as greeeeeen though which sucked because there were heaps of pink and other colours of coral and fish...
On the last day there was a fire show. One of the local kids was walking on a rope!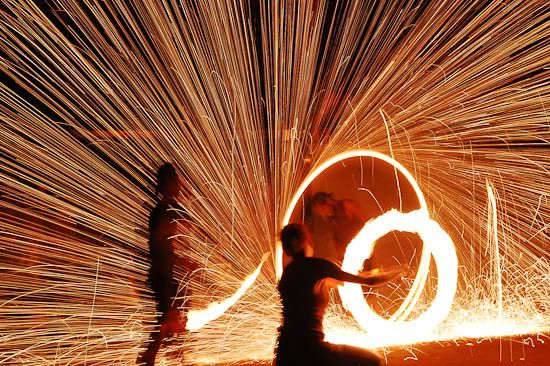 We also visited the amazing
Mele cascade waterfalls
but it was too wet to take a camera. You're pretty much climbing up a plunging river and as you reach the top you can bathe in rock pools under the waterfall.
All in all, nice holiday! Sucks to be back in the cold :P